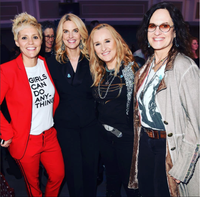 We are proud to announce that we have created the Melissa Etheridge and Joan Jett & 
The Blackhearts Girls Rising Grant Awards to be given to two middle school aged girls 
who have been empowered and inspired by a Girls Rising Outreach during the 
2017-2018 academic year. Teachers were asked to submit students that serve their 
school community, work hard, have strong leadership qualities and whom they feel 
were genuinely motivated by attending our Girls Rising Outreach Event at their 
school. 
The purpose of the grant is to remind girls to reach a helping hand out to those coming 
up behind them. The best way we can change the game and advance gender equality is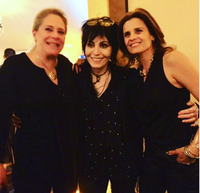 to help other girls and women rise above adversity. 
Joan Jett & The Blackhearts Grant will always go to a student who lives on Long Island. 
This year's Melissa Etheridge Grant recipient happens to live on Long Island as well, 
though in future years this will not be a defining criteria. Melissa is the mother to a set 
of twins, and when she read these applicants submissions, she wanted to be sure the 
grant in her name would be awarded to one of two sisters who has overcome adversity 
and shown exceptional leadership qualities. 
This years Joan Jett & The Blackhearts and Melissa Etheridge Girls Rising Grant Award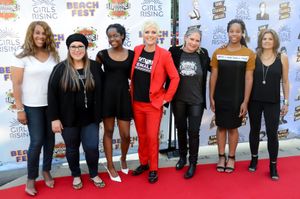 winners are: 
Allyna James – Glen Cove Robert M. Finley Middle School 8th Grader 
Allaina James - Glen Cove Robert M. Finley Middle School 8th Grader